Our today's guest is a person I know for over 4 years, a good motivator, my business advisor and a successful entrepreneur from South Korea. Kim Ik lives in Seoul Korea with an established business engaged with importing various school items. He has been constantly dealing with international manufacturers from different countries particularly in China, Vietnam and other parts of Asia.
When I was aspiring to be a manufacturer agent for Indonesian manufacturers way back 2007, I met Mr. Kim (that's what I use to call him) through a website. I can hardly remember what website was it since I joined more than 20 sites at that moment (LOL). Whether it's Alibaba or other B2B portals, I am grateful to have met him. I gathered information on Indonesian manufacturers and look for business opportunities in Indonesia for him. That is where our harmonious relationship started and continuously growing through the years. We keep in touch through Skype until now.
Culture and language has never been a problem between us. In fact, it became a source of interesting conversations and additional knowledge to learn. He is also my personal Korean language instructor (free of charge). It is also amazing to know that he speaks English fluently knowing that it is not his first language. He has shared the beauty of South Korean cultures and traditions. Although he travels a lot in China and various Asian countries, he always spends sometime to sit back and appreciate the beautiful weather of Korea, enjoy the reliably high internet speed (arrrghh…I'm green with envy), delightful Korean delicacies (I'm starving), as well as the friendly and organized people of Korea.
Question:
As an importer of school items, your business requires you to deal with other countries' manufacturers producing your items as an OEM project, how do you manage communicating with them? Has language ever been a problem?
Answer:
Well, I usually use English to communicate. Communications has never been a problem for me. If I went to the countries where I couldn't get someone that can speak English, then I would get a translator service. I have someone also in China that has been working with me for years, he's a good translator, native Chinese but speaks Korean fluently.
Question:
How did the internet serve as a tool to support your daily business activities?
Answer:
It was about… I think more that 15 years ago, I started using email and web fax to communicate with other country' partners. Using internet is surely one cost effective solution, its fast and real time access also enables us to communicate with business partners at anytime anywhere. Especially with Skype, it's easier to contact people abroad.
Question:
Why don't you want to have a website for your business? May I ask for your reason/s?
Answer:
It's not that I don't want to have a website, but uploading and updating data will make me get a headache, LOL. Although the production for my product is done overseas, my target sales is local market, where most websites will use Hangeul characters and platform. I believe that if I decided to build a website, then I might not be able to use international programmer's service as it won't be too efficient.
Question:
How do you find B2B portals helpful to your business?
Answer:
It might be good for references only. Most of the time, I found it doesn't really work. I prefer to have a direct approach to the manufacturers, it's more secure. I joined some of B2B portals just to see if there's interesting items that I can purchase or qualified manufacturers that can produce my items, but I don't really rely on the website for my business.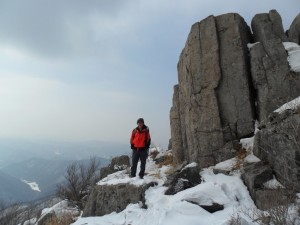 About Kim Ik:
Kim Ik is school items importer living in Seoul Korea. He imported student shoes (Korean students must wear this type of shoes when they were in the class room where sport shoes will only be used for outdoor activity), school stationeries and bags for Korean market. He's been doing the business for years and has built a very good relationship with manufacturers, mostly in Asia.
Mountain climbing, jogging and his dogs are some of his favorites 😀