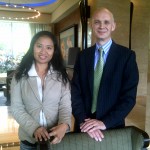 June 30/2011,
Being able to meet my clients personally would definitely be one of the most valued moments in my life,  since working as a virtual assistant made it nearly impossible for me to meet them as most of them are based abroad. It would really be nice to see face to face the person whom I am working with, the one I'm spending time chatting, brainstorming and sharing great stories and ideas. Most of all, I am thankful to finally meet the person who have taught me to never give up on work and motivates me to achieve my goal.
The last day of June 2011 at the lobby of Kempinsky Hotel, Jakarta was surely a moment worth remembering and worth sharing since that was the time I met Simon Collier, he's one of my clients in the online business. I am so grateful that he spent some time to see me. We had a nice time chatting and he discussed the project that he's about to assign me for the next two months. He was great, smiling face and he has a very nice personality.
Simon is currently working as Managing Director for Sondent Group (HK) Ltd. The company specializes in providing consulting services that are focused on operations and product development in the securities, custody, fund and wealth platform industries. Their expertise includes work with global custodians, sub-custodians, fund administrators, broker-dealers, mutual funds, investment advisors and technology firms. He's a US citizen born in UK. He travels a lot from time to time to US, Europe and Asia including Indonesia. His business visit to Indonesia has always been arranged by one of the biggest banks in the country.
"One thing I will never forget about Simon, he has NEVER assigned an EASY project, LOL! It's always difficult! I nearly gave up when doing his first project, but he never let me quit." Let's just put it this way, I learn new things the HARD way! LOL! But, I am forever thankful for all the knowledge I have gained on the tasks that he's assigning me.
During our conversation, he also mentioned he's surprised to find someone from Indonesia to work as a virtual assistant. He's been to Indonesia for a couple of times, but never found anyone that seems familiar with the virtual assistant job or something like that.
"Virtual assistant as a profession is quite common in United States. Many people decide to work at home and become freelancers. Either it is small or big companies, we got used to hire freelancer service as in some way it's proven to be an effective solution for the business." said Simon.
"I really think it's a smart move to have your own business at home. You can work anytime you want, choose who you prefer to work with and select what kinds of projects you would like to get involved in. This is the best solution for a stay at home mom who previously worked but wishes to continue her career while giving quality time taking care of her kids.
I do agree! I am a proud mom and a career woman in my own way, and being a virtual assistant is one of the best decisions that I have ever made!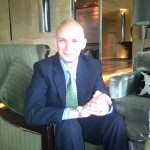 Simon Collier short biography:
25 years experience in the securities industry and is the founder of Sondent Group, a consulting company specializing in the investment administration and custody space, including: product management; technology & operations; and, complex outsourcing arrangements. He has undertaken numerous projects in the US and Asia, and has extensive experience in China. Before starting Sondent, he served as President of Fore side Financial Group – a US fund services company. He also served as Treasurer or President of a number of US Mutual Fund companies. Prior to this, he was a Managing Director and COO of Citigroup's Securities and Fund Services business and has also held various management positions within the securities services businesses of Chase Manhattan Bank and HSBC.