Sending email to multiple recipients?
If you have an email that you have to send to a large number of people it
may be difficult to do this one by one, eating into your valuable time.
One possible answer is using the cc and bcc function.
Now, before you jump in and start sending emails you may want to take
the following points into consideration, especially if you want to
preserve your reputation among your clients and work colleagues;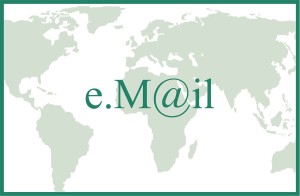 • Know the difference between cc & bcc – cc is short for 'carbon
copy'. If you cc a group of people into an email they will all receive
your message and also be able to see who else has received it. This
can be useful if you wish to initiate a group email conversation, as
the recipients simply have to hit "reply all" and their email will be
sent to everyone on the list.
Bcc stands for 'blind carbon copy', and it works in much the same
way as cc, but the recipients emails are hidden from everyone
except you. All of your recipients will see the message sent from
you, but will not know who else it was sent to. There's a pretty
good chance that they'll know the email was sent 'bcc' and isn't
unique to them, so that's something worth bearing in mind.
• Consider whether cc or bcc is really necessary – In the
connection economy people value individual relationships with
the people and companies that they buy from and work with.
Receiving an email intended specifically for them makes people
feel valued and important in many cases. Obviously this kind of
approach is impossible if you're sending out a lot of emails at
once, but it's an important factor in your relationship with your
clients.
• The hidden cost of bcc – Sending a mass email into circulation is
the easiest option most of the time, but the end user will receive a
less personalised experience. In some cases this can damage the
trust they put into you or your company. One way around this
issue is to include a greeting that helps establish who the email is
being sent to, and your reasons for using this method in the first
place. Most people will understand if you express your intention
to keep everyone's contact details confidential.
Valuable tip; Use an email agent
You can work around many of the issues discussed above by using an
email agent such as AWeber or MailChimp.
Such programs allow you to send mass emails without requiring the cc
or bcc tool. They keep the email addresses of your recipients private,
and provide valuable tools for customizing each email to a particular
recipient.
A lot of email agents will also include tools for designing elegant and
impressive newsletters or automatic emails, all of which can come in
handy if you find yourself in the position of sending out batch emails
regularly.
A strong organization is built on trust between its members and clients.
You can use cc and bcc ethically and honestly, it's all about taking the
time and care to consider how all parties will view such an approach.