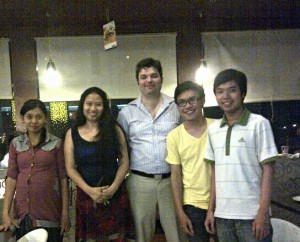 February is a very busy month for us. We got two client's visits this month. 
Client visit here means client visit us in Jakarta, not the other way round 😀
So, our two of clients came to Jakarta last week, even one of them had a chance to visit our small office for training.  The first client came from Australia, the other one is Washington based client. They are from different project and came to Jakarta at different time, only about two days from one to another. 
Client's visit is always fun as we can meet the clients that we have been working with, meeting face to face. It's always wonderful to see someone you have only been able to see via Skype virtually. 
Most of our clients are overseas, so we can't describe how we feel honored when they are willing to spend some times to have lunch or dinner with us while they're in town.